Remember that frustrating teaching Jesus shared about loving our enemies?
Today there was a revealing, an epiphany as I cleaned my kitchen.
*side note*
Something is soothing to me about my empty sink and cleared, germ-free countertops with the gentle (not exactly quiet) whooshing of my dishwasher. The stress that piles up is tucked away and dealt with.
*back to topic*
http://farm5.staticflickr.com/4116/4904433808_d3b3053c94_o.jpg
Why, why would he ask us to love our enemies and pray for those who persecute us?
We all have at least one person in our lives that battles us. Frustrates us. (you're thinking to yourself, "just one?")
Today I realized that God is never closer to us than when we are in trouble. When we are battling something that overwhelms us and seems as though it will never get better, we finally ask for help. Truly, with this outlook, I've realized that the "enemy" is actually a gift from God to drive us from our own strengths into the need for his ever-present help.
My middle daughter is God's biggest blessing to me. Through her, He is drawing me to Himself in a mighty way. There is more spiritually happening in me through our conflicts than in any other method or manner in my almost thirty-two years of life. He has placed her in my life with her specific gifts and strengths to bless me with a depth of relationship that the saints of old could only dream about.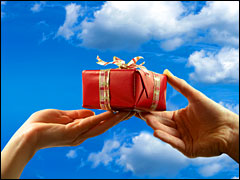 http://www.proprofs.com/quiz-school/upload/yuiupload/1336774377.jpg
Whether or not I choose to accept his gift...ahh, there is the issue.
Paul stated in 2 Corinthians 4:8-10 (Amplified Bible),
"8 We are hedged in (pressed) on every side [troubled and oppressed in every way], but not cramped or crushed; we suffer embarrassments and are perplexed and unable to find a way out, but not driven to despair;
9 We are pursued (persecuted and hard driven), but not deserted [to stand alone]; we are struck down to the ground, but never struck out and destroyed;
10 Always carrying about in the body the liability and exposure to the same putting to death that the Lord Jesus suffered, so that the [[a]resurrection] life of Jesus also may be shown forth by and in our bodies."
God has a special purpose for me in this world. In order to get me to the point where I'm usable, He has people in my life that I cannot escape. (for you it may be a fellow employee, a boss, a sibling or parent, or even your spouse) Those conflicts arise repeatedly.
(Really? Again?! When will this ever end???!!!)
https://fbcdn-sphotos-h-a.akamaihd.net/hphotos-ak-prn1/p480x480/10987_10151724554527355_1136860320_n.jpg
A dear friend of mine recently shared with me how I could best pray on their behalf. "Pray for contentment." This friend has been at a job that has challenged and challenged and challenged. But truly, only God could have softened their heart in a way to yield and ask "not my will, but thine be done."
I am blessed w
ith all my heart

to see this transformation and am excited to see what these prayers avail! Will it mean a new job? The end of employment of the negative stressors? Salvation of those not-so-easy co-workers? Or? Will it mean simply that this job will no longer bring these negative thoughts about? Will this friend be content regardless of circumstances? This is a quality we all could pray for.

God wants to change us, not those around us. Though, we selfishly just want everyone else to change, ignoring our own shortcomings.
My daughter will now have a new description in my heart.
Lord, thank you for my middle daughter. You gave her to me to draw her closer to you. Of all the people in my life, she is the one that has brought about the most growth. She will be the one I am drawn to most as she ages and matures!
Rather than focusing on my trials, I'll quote James 1:2-4 (NIV).
"2 Consider it pure joy, my brothers and sisters,[a] whenever you face trials of many kinds,
3 because you know that the testing of your faith produces perseverance.
4 Let perseverance finish its work so that you may be mature and complete, not lacking anything."
I hope that today you will reconsider your present circumstances and see those blessings around you. You will not only find it easier to deal with those people, but you will see God's hand in the midst of it.
~Tammy